A perfect meal requires precise cooking. But what if your trusty GE oven starts acting up, leaving your meals less than desirable? If you have a GE oven not cooking evenly, there are various reasons this might be happening. Let's uncover them.
How to Troubleshoot a GE Oven Not Cooking Evenly
As you navigate the world of oven troubleshooting, there are some common problems that might be at the root of your woes. Let's break them down one by one.
The Importance of Preheating
Most recipes require an oven to be at a specific temperature for optimal cooking. If the oven hasn't reached that temperature, your food might not cook evenly.
Cause: Oftentimes, people are in a rush and pop their food into the oven before it's adequately preheated.
Troubleshooting: Check if you're allowing your oven to preheat until its indicator (light or beep) signals it's ready.
Tip for the Future: Always allow for an additional 10-15 minutes of preheating before you start baking or roasting. This ensures a consistent cooking environment for your dishes.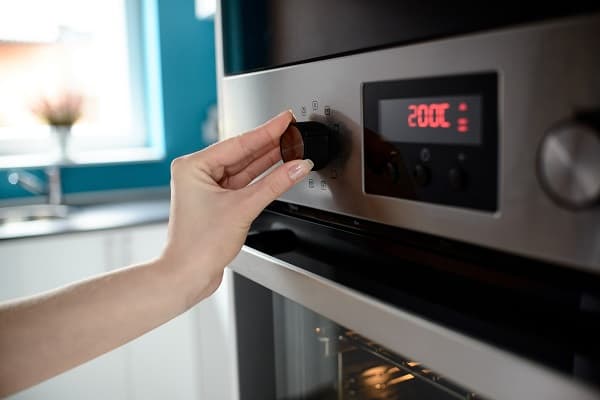 Bakeware Matters: Using the Right Tools
The bakeware you use can directly influence how evenly your food is cooked.
Cause: Darker bakeware tends to absorb more heat, which can result in the base of your dish cooking faster than the top.
What to Do: If you're experiencing uneven cooking, consider the type of bakeware you're using. Lighter or glass bakeware might offer more consistent results.
Maintenance: To keep your bakeware in top shape and ensure even cooking, clean it regularly to prevent residue build-up which can impact heat distribution.
Keep that Oven Door Shut!
Repeatedly opening the oven door is a sneaky culprit behind unevenly cooked dishes.
Impact: Every time you open the oven door, a significant amount of heat escapes. This causes temperature fluctuations that can lead to uneven cooking. Plus, there's the issue of the "oven cooks more on one side" when the door is not properly sealed.
Best Practices: Use the oven light to check on your food. If you must open the door, do so quickly and ensure it's securely closed afterward.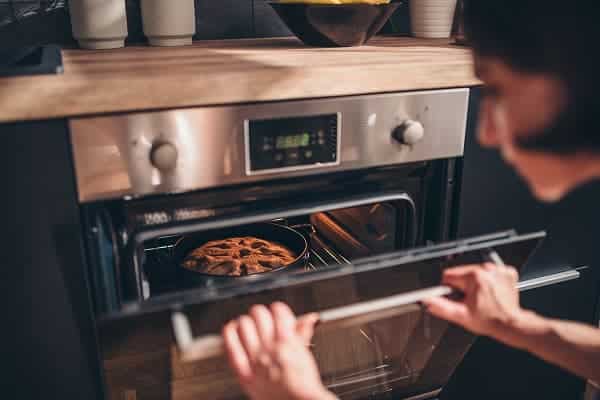 Calibrating Your GE Oven
Over time, ovens can drift out of calibration, meaning the set temperature and actual temperature don't match.
Recognizing the Problem: If you're questioning, "Why is my GE oven temperature not accurate?" then it might be time for a recalibration.
Solution: Use an oven thermometer to check if the internal temperature matches the set one. If there's a discrepancy, refer to your oven's manual on "how do I calibrate my GE oven temperature" or consider seeking professional help.
Issues with Heating Element (Electric Ovens Only)
In electric ovens, the heating element can sometimes be the root of uneven cooking.
Diagnosing: If your oven heats up but cooks unevenly, visually inspect the heating element. A malfunctioning element might not glow uniformly or might have visible damage.
Addressing the Issue: Replacing a faulty heating element is a straightforward task, but if you're unsure, it's best to consult with a professional.
Convection Fan Issues (Convection Models Only)
For ovens with convection features, the convection fan ensures heat is distributed evenly.
Cause for Uneven Cooking: A malfunctioning fan will not circulate air as it should, leading to symptoms of a faulty oven thermostat.
Checking the Fan: Listen closely when the oven is on. A faulty fan might be silent or could emit unusual noises.
Next Steps: If you suspect an issue with the convection fan, it may require repair or replacement.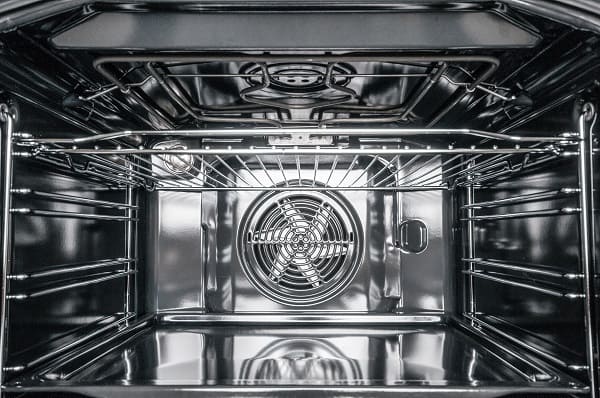 The Role of the Temperature Sensor
The temperature sensor plays a pivotal role in maintaining the oven's temperature.
Impact of a Faulty Sensor: A misreading sensor can result in the oven getting too hot or not hot enough.
Identification: If your oven seems hotter or cooler than the set temperature, inspect the sensor. It should be free from damage and not be touching the oven wall.
Maintenance Tip: Regularly clean the sensor to ensure it's free from food debris and can accurately measure the oven's temperature.
For those who've tried troubleshooting and still find their GE oven not cooking evenly, don't fret. Handler Appliance offers professional oven repair services to restore your oven's top performance.